From previous comment,
Vlad: Poor thing get to see Sting's face instead of Keanu's in Hellblazer.
Kampung Gal: You know what? Sting is in my list of hot guys too actually. So I got it good either way.
It got me thinking. Who are the people on my hot guys list anyway? What better way to celebrate
International Woman's Day
than to list down my favorite guys.
I never think about boys until much later in my teenage years. I don't grow up reading Teeny-Bop, Teens or even URTV. So I don't care much about cute stars either. Most of the time I was just jumping on the bandwagon which I clearly remembered I did with
New Kids on the Block
.
I was in Form 3 and the kind of music I was listening to was the ones on my sisters' cassettes. It was
Total Eclipse of the Heart (Bonnie Tyler), Bridge Over Troubled Water (Simon & Garfunkel), Drive (Cars), Luka (Suzanne Vega), Elton John, Phil Collins, Billy Joel,
you know, the basic 80s classics.
So when all the girls were going crazy over
NKOTB
, I hopped, skipped and jumped on the bandwagon too and bought their casettes. Well, at least they were not that bad, they dance, they have catchy songs and yeah they're cute too. While most of them like Jordan, I prefer Joe myself. But still he was not the all time 'hot guy' for me.
Thankfully I grew out of
NKOTB
. I got into a boarding school and met a whole bunch of new friends. We were always laughing and talking about everything.
Well one of the topics that we would talk and laugh about is the celebrity we like the most. I can't remember all the names that we mentioned but I do remember one of them just adored
River Pheonix
. And to keep the conversation going I mentioned
Johnny Depp
.
But in time, what started with
Johnny Depp
expanded to include other celebrities. Here are my all-time list of hot celebrity males.
1. Johhny Depp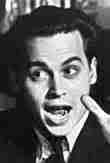 He is the handsomest guy on my list (if there is such a word as handsomest). I started liking him since the beginning of his career in
21 Jump Street
, one of my favorite shows (not just because he's in it). After he went into the movies, I will see all of his work just to see him. But now this admiration has turn into respect as well. He has this tendency to take on the strangest role. My opinion on him didn't change as early as
Edward Scissorhands
however, it was actually after I saw
Ed Wood
. I don't know, just seeing him playing the eccentric, weirdest, biggest movie fan in the world is so refreshing. He has this gift to make you forget the
Johny Depp
of
21 Jump Street
, the
Johnny Depp
of
Edward Scissorhands
or
Johnny Depp
as
Gilbert Grape
everytime he takes up a new role. I put up this particular photo on purpose.
2. George Michael

It's after he went solo that I got the hots for this guy. It's probably because during the Wham years I didn't know enough to have any feelings for any guy. He's tall, dark, and handsome. With the leather jacket, black guitar, sleek dance moves, deep-set eyes, great hair, that one-day beard, great voice and great music, you just can't help but be swept by it all. He's so damn sexy! But alas he's gay. I do admire his struggle to break away from the sexy pop image that all the girls (and guys) are drooling over him for. I don't think he's as sexy now as those days but I still enjoy his music.
3. Viggo Mortensen

No, he didn't get in my list because of
Aragorn
. It was way before that. I absolutely remember the first time I saw him. He was the
American Yakuza
and it was love at first sight. I was impressed with the story first of all, and his portayal of a foreigner in his own land was different than other similar roles I've seen. And then I saw
G.I. Jane
another good one. I didn't recognize him at first since his hair was short and he has this funny moustache that reminds me of Hitler (see pic below). But the character of
Comand Master Chief Urgayle
was unforgetable. He's the best thing about the movie. When I heard that he's playing
Aragorn
the girly part of my brain was saying "I must see the movie!" (I haven't read the book yet at this time) And he was just right for the part. I'm so glad that Stuart Townsend quit/got fired, whatever the story was.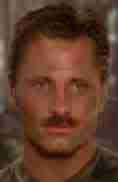 4. George Clooney

Another guy that started from television with the series
ER
. He was the playboy doctor breaking hearts left and right. Got a major wake-up call when one of his conquests tried to kill herself. The fact that he's also a pediatrician garnered a few points for
Dr Ross
. I followed his career after he shifted to movies. And his best character for me so far would be his
Ulysess
in
O Brother, Where Art Thou?
I keep seeing his puzzled look after he got punched by
Vernon T. Waldrip
. Like
Depp
he also likes to vary his roles. He worked the different characters every time with success and that makes him one of the talented good-looking guys in my list.
5. Dwayne Johnson aka The Rock

Let me get one thing straight. I absolutely hate wrestling and the ppl that take part in its making. And i don't like those big bulky muscular guys. So how come this guy got into my list? I have to blame my friend for this one. She loves
The Rock
. She kept talking and talking about how cute he is, what a great wrestler he is, he's so popular bla bla bla. Yeah yeah whatever, is what I would say. But I like movies and I saw
The Mummy Returns
. He has a small role but he was ok. He can at least act unlike some other wrestlers turn actors who may be great in the ring but terrible in films. I still didn't care much about him. But then I saw him in an interview with
David Letterman
I think. And I got to see
Dwayne Johnson
the man behind
The Rock
. He was cool, relaxed, he smiled a lot, he joked a bit, and he looked kinda sweet for a big guy. Not bad for a guy who grinds people's heads to the floor for a living. And after watching his other movies he's not such a bad actor either. So now I would feel a bit giddy everytime I see him smile. Just thinking about it now makes me smile.
6. Sting

The old rocker. He has a great voice and wrote some of the greatest song ever. Apart from his great talent, why I think he's so hot is also due to his upper body (I've never seen the rest). He has this tall, lean yet muscular look. Well at least when he was younger. To see him perform with nothing but pants and a guitar is a nice treat.
7. Keanu Reeves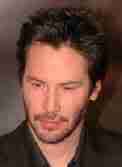 Hehehe who can forget Mr Reeves the wooden actor. I admit he's not such a great actor and I like him mainly because of his looks. I usually got turned off when cute guys got nothing much to show talent-wise. And I would still laugh everytime I see
A Walk in the Clouds
. He doesn't crave the limelight and keeps to himself most of the time. It's very hard to get a glimpse of his private life and I think that's what's appealing about him. This man is 40 and he looks like this! He is one of the guys that can just make me smile just thinking about him.
8. M. Nasir

The Sifu, the most talented musician in Malaysia and like
Keanu Reeves
very reserved and quiet about his private life. But when he opens his mouth he really do have something to say, a very admirable trait. I actually met a guy who looks exactly like him at my old workplace. Just imagine
M. Nasir
with a short haircut, trimmed beard, in shirt and tie and you get this guy. Man, I got a major crush on him but then he's married. So I just get to admire him from afar, like any other of my could-have-been relationships.
9. Daniel Wu

I see him in movies many times but amongst all the other good-looking Chinese actors like
Tony Leung, Andy Lau
and
Leslie Cheung
, I never really did notice him. I only did when I saw
Princess D
opposite cute actress
Lee Sin-Je
. I wonder why I'm taken into him all of a sudden? Well, for one thing he is cute, he's not handsome but he's cute (and I don't mean ugly but adorable). I think it's because there was this naughty sparkle in his eyes. He's the bad boy if you want to call it that.
10. Yutaka Takenouchi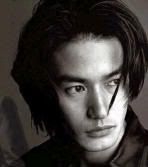 I must say I was more attracted to the character of
Hata-san
from
With Love
rather than the actor at the beginning.
Hata-san
or
Hasegawa Takeshi
was once the frontman of a succesful band but ended up composing jingles as a living. Met someone when he accidently send a sample of his song to the wrong e-mail address. An online relationship blossoms not realizing that they actually knew each other outside cyberspace. They are totally of different character. He is the handsome, confident, rocker and songwriter and had his share of the ladies in his heyday, while she is the sweet, innocent quiet banker. He couldn't accept the fact that he could be in love with this type of girl but... well you know what happens. He's one of those that can be haggard and still looks. I started watching his other dramas and I enjoyed those also.
Since I have travelled across all continents to pick up these hot stuff I realized that I didn't picked any from India or Africa. I considered a few but they didn't make it on the list. They just lack the staying power that the ten guys I mentioned earlier have.
When everyone was going ga-ga over
Shah Rukh Khan
and
Aamir Khan
I was going ga-ga over
Salman Khan
. Maybe it's the eyes. After some mediocre movies and very bad publicity I lost interest so he's out. And then there was
Hrithik Roshan
. But he's not consistent and I don't get to see him much so he's out too. As for Africa, I don't know any celebrity from there.
And then there's also these regular guys on any hot list:
Tom Cruise, Brad Pitt, Leonardo DiCaprio, Orlando Bloom
, and
Jude Law
. I just knew some ppl will get offended with what I'm about to say. But how can you explain why you like certain things and not others? The least I can say is that Tom, Leo and Brad in my opinion are not so versatile in acting. It's like if you see them in one movie, you've seen them all. While Leo as himself is pretty interesting, I think Tom is shallow at times and the answers he gave in interviews are mostly what people would want to hear. I have this feeling that he's still acting even after they say 'cut'. While Brad, well what can I say, he's not that great an actor and he doesn't really appeal to me in terms of looks. Orlando and Jude? They're just too skinny for my taste.
So do these ten guys represent my ideal man? Well yes in a way. If I can get a man that's tall, lean, handsome, musically talented, quiet, naughty at times, smart, sweet, funny and not gay, I would fall on his feet anytime.
So, that's it then. I'm never getting married